Online Shopping 'Clicks-Right' with Indian Shoppers!
India is a land where culture and language changes every 100 miles, and along with it, there are changes in the costumes, food habits and people's mindset. Before 10 years, equal internet penetration in such a diverse land seemed next to impossible, especially in rural areas where still the evils of illiteracy and poverty exist. In such a scenario, the future of online shopping was bleak. However, with smart strategies like incorporating the local language content on internet and proper understanding of the Indian consumers psyche, the situation changed dramatically. Today, India has the second largest internet user base in the world. So, call it favourable times, good luck or brilliant minds at work, with the rise in internet penetration,
e-commerce market in India
is witnessing an unprecedented growth!
In one of the articles of The Economic Times, Nilotpal Chakravarti, associate vice-president of
Internet and Mobile Association of India
(IMAI), was quoted as saying that the advent of low-cost smartphones, coupled with low mobile tariffs has empowered consumers in the hinterland to use data connectivity and India will be seeing more usage of Internet from these areas in the months to come. He also said that the increased internet usage will boost digital commerce in India. Hence, if your thinking of starting your business, starting it online is the more viable option than brick-and-mortar structure.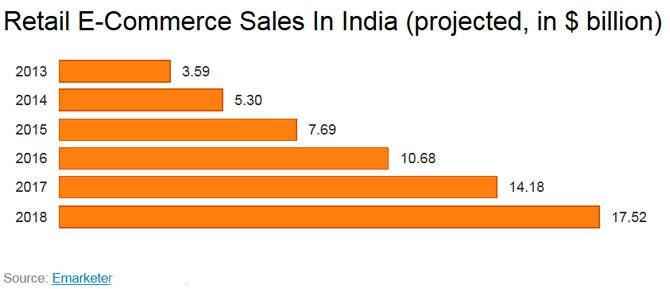 Undoubtedly, with the mushrooming of the smart-phone market,
online shopping
in India has bright prospects in the years to come. Digital India concept initiated by honourable Prime Minister Narendra Modi is again a step taken to make the country more digitally empowered and literate. People, especially youngsters are driven to online shopping because of the presence of both popular national and international brands on one platform. According to the Nielson report, apart from expecting attractive discounts, Indian consumers have also stated convenience as a
reason for rising online shopping
.
Many of the researches have also stated that
the financial independence of women
in India have also contributed a lot in the burgeoning of online shopping sector in India. The study titled, 'Law and Technology: Evolving Challenges as a result of fraud in e-commerce sector' has also predicted that the percentage of working women in India will increase from 26 percent in 2013 to 35 percent in 2015, all these women being active online users in India.
Hence, online shopping in India is the booming sector, however, there are still certain challenges like winning trust of Indian consumers through their endeavour to provide quality service before and after purchase of the product, that these online shopping sites need to overcome.